As Canada's team, the Toronto Blue Jays, begins pursuit of the World Series for the second year running, Huntington University is raising the stakes yet again in a friendly cross-border ALCS wager with the competition's hometown.
The friendly wager put forward by Huntington University President and Vice-Chancellor Dr. Kevin McCormick – a life-long Toronto Blue Jays Fan – was quickly accepted by Ronald M. Berkman, the President of Cleveland State University, located in Cleveland, Ohio.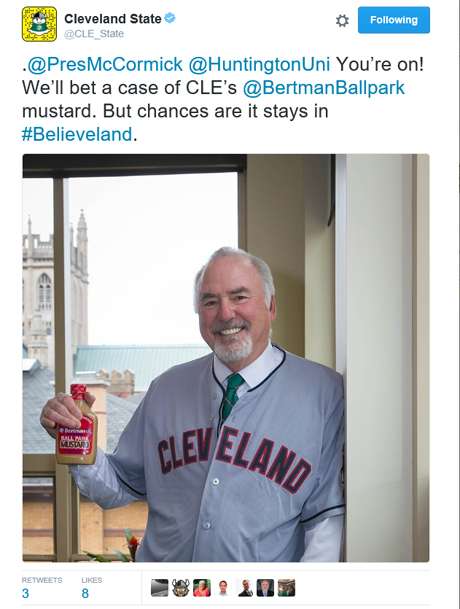 "This clearly is Cleveland's year, after the Cavaliers ended our city's championship drought this summer," said Dr. Berkman. "We have full confidence in our beloved baseball team and are certain that the Canadian maple syrup will arrive here in no time."
"Last year we initiated a similar wager with Rockhurst University in Kansas City, where Canadian maple syrup and Kansas City barbecue sauce were on the line," said Dr. McCormick. "We may have had to give up the goods in 2015, but we're confident this time we'll be firing up the grill and enjoying our hot dogs and hamburgers topped with Cleveland's famous Stadium mustard."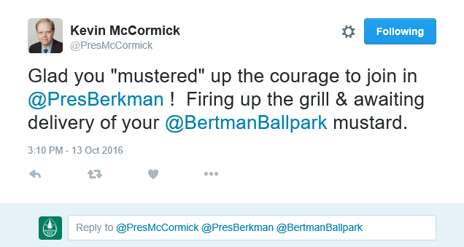 About Cleveland State University Csuohio.edu
With an enrollment of more than 17,000 students, eight colleges and more than 200 academic programs, Cleveland State is committed to providing a hands-on learning environment where faculty and students connect and ideas mesh with real-world experience.  We strive to serve the public, to support faculty in their teaching endeavours and research and to prepare students to lead productive, responsible and fulfilling lives in the region and around the world.
About Huntington University Huntingtonu.ca
Huntington University, located in the City of Greater Sudbury, Ontario, Canada, is a liberal arts university specializing in Communication Studies, Gerontology, and Religious Studies.  Huntington University offers a unique learning community with a distinctive culture of positive relationships and interaction between faculty, support staff and students. Huntington empowers each person in a way that builds life-long commitment to continuous personal, interpersonal, professional and spiritual development for all members of the community. Huntington is an independent university and also a member of the Laurentian Federation.